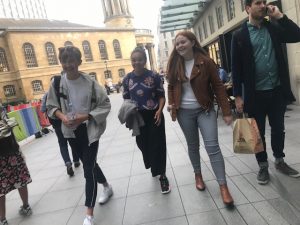 Bridget Jones was introduced to us in the '90s through Helen Fielding's newspaper column and later novel. Bridget's funny, insecure and honest diary chronicles her love life, career, parents, friends, interests – a true snapshot of what life was like for women in their early thirties right at the end of the millennium. Yet it still chimes with women today, whether that's with her disastrous cooking skills, enduring interactions with the 'smug married', or disappointing love affairs as a singleton.
Podium.me were lucky enough to be invited to the Radio 4 book club recording at BBC Broadcasting House. We were joined by a diverse range of other readers from all generations, as well as James Naughtie leading the questions and Helen Fielding herself.  
Despite being recorded, we were allowed open questions to the author, covering everything from why she chose the diary format, to how Bridget (and Daniel Cleaver) would fair now in light of the #MeToo movement and why Helen Fielding has no idea what Bridget Jones actually looks like. All of us were struck with how friendly and approachable Helen was; she made sure that she answered everyone's question thoughtfully and was able to smile and interact in a relaxed way.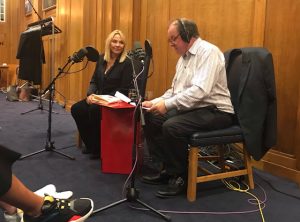 Before taking our seats for the recording we all reflected on our love for the book, or our new found ambivalence towards Bridget Jones as a character having re-read the novel in our early twenties. Many of us felt that we could always compare moments in our own lives to those of Bridget Jones – she in many ways is an anti-hero in that all women can (and should be proud to) be themselves.
As a group representing Podium.me, we were all lucky enough to ask questions based around our own reactions to the book. Gareth asked whether Helen Fielding had always planned to write the book as a diary or whether she had tried other styles. She said that she had tried different styles but had eventually settled on a diary format. Fielding, an English graduate, regularly referenced works of literature none more often than 'Pride and Prejudice'. She unabashedly described how she had mapped the entire novel to mirror that of the Jane Austen classic.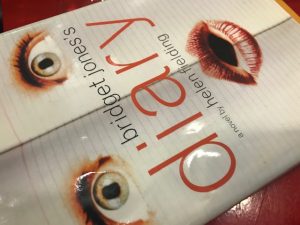 Alice asked if she ever thought that Bridget Jones would be such an iconic character all these years later. The idea of the novel now passing through time was touched on repeatedly. Whether it can stand the gaze of the #MeToo movement or indeed the obsession about calories and weight throughout the book.
Cleo asked if she felt that Bridget Jones didn't pass through time as she had little that she cared about unlike the activism that the millennium has become to be defined by. What was interesting is that Helen agreed that whilst Bridget may not be as passionate or outspoken as we are today on certain issues, her goodness and kind heart is always present in her character.
Katie then rounded up the entire event asking how it feels to have created a character that is so well loved by multiple generations; despite the changes in society that we had discussed, be it the #MeToo movement or the introduction of social media pressures with platforms such as Instagram, there will still be people picking up 'Bridget Jones's Diary' for the first time today and relating to Bridget's narrative. Helen clearly remains extremely proud to be associated with what is becoming one of the classic chick lit books – she said that people often ask her if she is tired of talking about Bridget, to which she responds, with a huge grin, that she could never feel that way.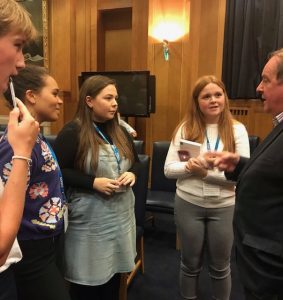 A few top 'networking' tips that we learned at the event…
Approach someone who has come to the event alone – you never know who you may meet and how interesting they could be!

If someone says that they're interested to have a chat – make sure you follow up! They'll often be busy and may not approach you, so be sure to make the move to initiate that conversation.

If you want to speak to someone and they're already busy, stand in their line of vision but to their side so as not to interrupt. This way they can see you and will come to you next after they have finished their current conversation. 

Remember to exchange contact details so that you can speak to them again – asking for their email address (make sure that the spelling and punctuation is correct!) is the key bit of information.

Send an email within a few days, reminding them of your meeting and letting them know how you can help each other.