Feeling sad posting this last blog from our wonderful features editor Beth Young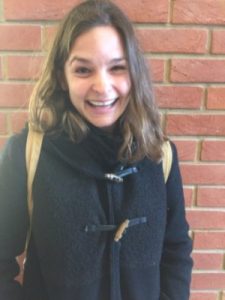 Ever since I was a kid, I wanted to be a journalist.
But I wasn't so interested in the news, I was more into talking to real people and discovering what made them tick.
That's why I was so excited to come across Podium last year.
I'd been in London for a year, working at a bar to earn the cash I needed to travel Europe.
I'd moved from a little town in Australia where I'd worked as a reporter for a local paper.
The break was much needed, but I was starting to feel that itch to tell stories once more.
But to be completely honest, I'd lost a little confidence about my ability to be a journalist.
Print journalism had always been my passion, but I absolutely loved listening to podcasts.
So I went online and searched for work experience and volunteer opportunities.
Rocking up at the Pod that first day, I was so surprised to find that Camilla ran the entire operation out of her home!
I was thrilled when she asked if I'd like to be Podium's news/feature editor.
It's been such an honour writing the brief each week since then.
I've enjoyed getting to know our amazing team of talented journos. You'll all go far! I've no doubt about that.
I'll still be a part of the Podium team, but I won't be writing the brief anymore.
I've moved back to Australia and I've got a job fas a features writer for a national weekly magazine called That's Life.
We tell real-life stories about Australian people. Exactly what I love doing!
It's the Aussie equivalent of Take a Break in the UK.
I just wanted to say a huge thank you to Camilla for bringing me on board.
You really helped to restore my confidence as a journalist.
The podcast I'm most proud of: https://soundcloud.com/podiumme/im-a-stripper-and-i-have-rights
Thank you Beth! A true example of a long-standing and very loyal journalist.  She will go far, lucky Australia