by George Ward
The Radio Academy is a registered charity that is dedicated to the development, promotion and recognition of excellence in UK radio and audio. As part of its calendar of national, regional and online events for members, it held a 'Foot In The Door' event at the Leeds University Student Union on Wednesday 8th November 2023.
The day entailed a selection of Q&A sessions with a range of radio and audio professionals before a speed-networking event, giving a valuable opportunity to meet industry professionals, leaders and employers.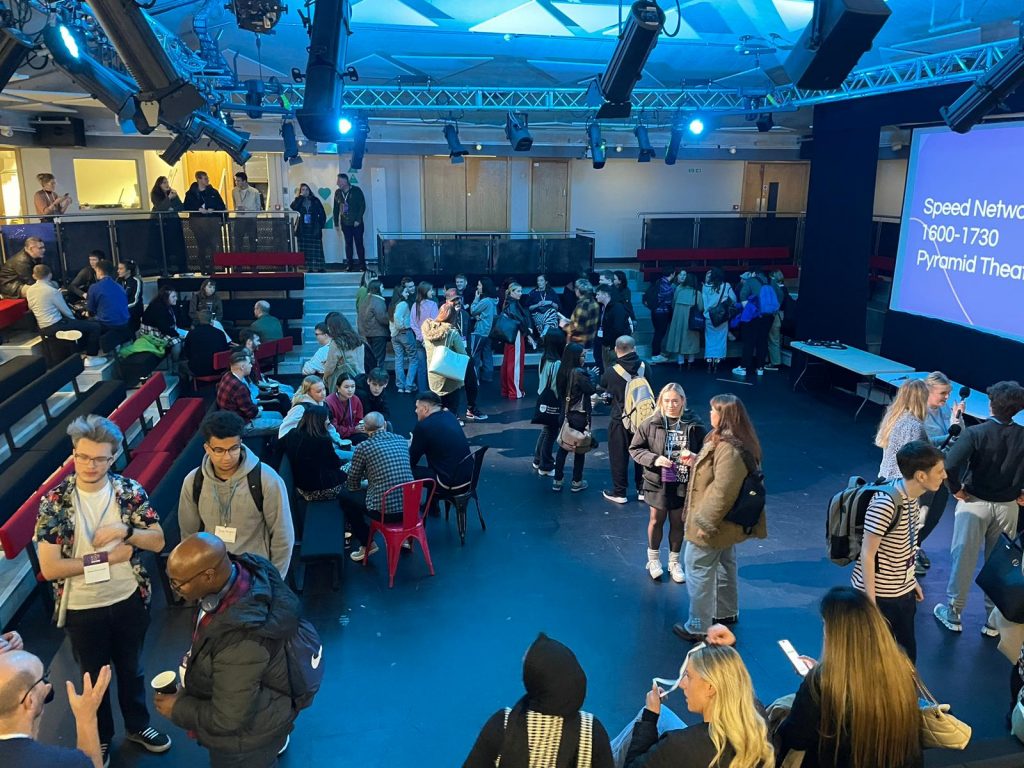 Following registration, the afternoon began with a warm welcome from The Radio Academy's Managing Director, Aradhna Tayal Leach. She hosted an 'In Conversation' interview with BBC Radio London Presenter Claira Hermet who shared her audio journey and how persistence had paid off throughout each chapter of her career. Both Aradhna and Claira emphasised the importance of individuality and how being true to yourself on-air can create relatable content that engages listeners. Claira was very open and honest about the challenges she had faced both personally and professionally and encouraged us to make the most of any opportunities which come our way while also creating our own opportunities.
Following this, attendees had the choice of attending 3 of 6 sessions throughout the afternoon. The first was a choice between 'Everyone can make a podcast, but how do you create a great one?' or 'Is making music radio about the bits in between the tracks?' I wanted to attend both but opted for the latter which saw Amn Kaur (Producer, BBC Asian Network & Audio Always), Rob Watson (Deputy Content Director, Absolute Radio Network) and Andi Durrant (Founder & Director, This Is Distorted) discuss their career journeys. They all agreed that keeping your audience in mind at all times was vital but you shouldn't be afraid to experiment with new ideas.
The next choice was between 'Making audio – presenting, producing and executing great content' and 'Vision of the Future – Without tech there's no content to broadcast'. I attended the first one which included Katie Tully (Head of Curation, BBC Sounds), Julie Cullen (Managing Editor, BBC 5Live), Mo Ayoub (Broadcast/Voiceover Artist/DJ), Andrew Spence (We Are Unedited), Mike Cass (Content Director, Virgin Radio) and Nick Pitts (Content Director, Jazz FM and Scala Radio and also a Trustee of The Radio Academy.)
Katie encouraged anyone looking to get into the industry to try something different and to challenge yourself. Julie highlighted the importance of student radio and how essential it is to build teams and to treat everyone you work alongside with respect. She also advised us not to pigeonhole ourselves and recognised that 'ego' is the enemy of us all. Mo also stressed how presenters should always respect those on the production team and admitted that the presenter career path can be a solitary one at times. Andrew urged us to physically get into the building of a prospective employer if possible and work your way up that way, while not being afraid to make mistakes along the way. Mike identified that there is a fine line between tenacity and annoyance when it comes to reaching out to employers but it's always worth trying and having faith in your application or enquiry. He believes you have to be truly interested in what you do.
The final choice of sessions was between 'Getting the most from your speech-based content' or 'How to get your voice and brand heard with socials and marketing'. I opted for the first which saw Edward Adoo (Presenter, BBC 5Live and Local Radio) recall some memorable moments from his career while highlighting the need to be relatable and passionate in order to encourage listeners to respond to your output. Perminder Khatkar (Producer and Trustee of The Radio Academy) stressed the importance of authenticity and research and believing in the story you wanted to tell, while Ben Henderson (Presenter & Producer, BBC World Service) advised us to consume as wide a variety of content as possible which could inspire you when creating your own audio.
After these sessions and a brief break, a 90-minute speed-networking session commenced which saw delegates meet a cross section of audio professionals and learn about opportunities and career paths available in different areas of audio. This was an enjoyable yet tad chaotic experience as it became a bit of a free-for-all mingle at times but it was very useful to meet many peers and professionals. One startling remark from an industry professional I met was that, out of 50 people who say they will get in touch with a demo, only around 5 ever do. Following this, there was an informal social event with The Radio Academy's Yorkshire Branch.
The 'Foot In The Door' event was exactly as described and very worthwhile. A recurring theme was how crucial networking can be when it comes to progressing your career, but also how vast and varied career paths within the audio industry are. Although the 'end goal' may seem impossible to reach, being willing to learn new skills and being in the right place at the right time could see you reach your potential.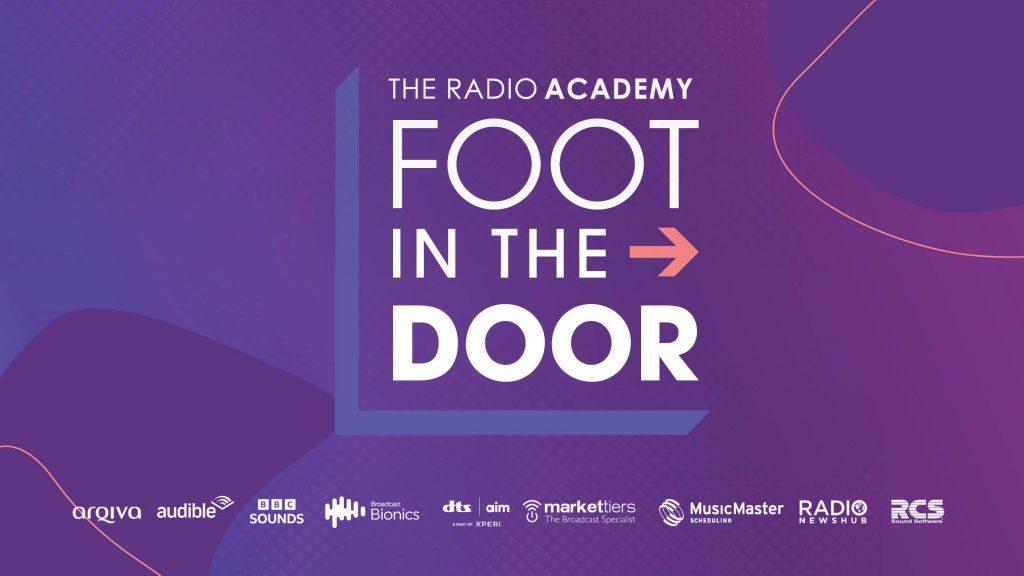 The event was sponsored by Audible, with support from The Radio Academy's partners: Arqiva, BBC Sounds, Broadcast Bionics, dts and aim from Xperi, Markettiers, MusicMaster Scheduling from On Air, Radio News Hub and RCS. The event was £6 for members of The Radio Academy and £12 for non-members. Full details about The Radio Academy can be found online.
Podium.me is an affiliate patron of The Radio Academy, meaning membership is free for those with Podium.me experience.