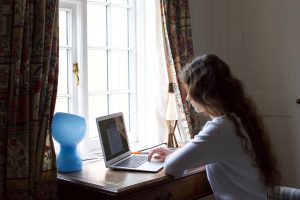 By Charlotte Cromie
I signed up for a Podium workshop back in February because I wanted to expand my possibilities as a playwright by learning how to write audio drama. I had no idea at that time what a valuable experience this would become in lockdown.
Like many of us, I've been feeling anxious and helpless over the last three months about the future of the arts. With theatres closed and no date set for them to open, writing for theatre can feel like chucking scripts into outer space. I wanted to make drama in lockdown, and to feel equipped to keep making it whatever happens next. Thankfully, that's where Podium came in.
For obvious reasons, the course was taught online for the first time. Our group from around the UK and beyond had twice-weekly sessions on Zoom, and I came away from each one feeling excited, inspired, and wanting to write.
Cordelia and Camilla were full of practical help for tackling audio. We looked, realistically, at the pros and cons of audio as an art form. We learnt about the intimacy of audio, and its power to make a listener feel closely involved with the action. We listened to samples from various audio dramas, showing the range of styles and stories open to us. We were given writing exercises that helped us create high-stakes drama that drew our listeners in immediately, made them invest in the characters, and gave away just enough information to keep them hooked. Then we had the chance to share our work, and get feedback from the tutors and each other. Even online, I felt part of a group, and I loved having spaces in my week to connect with others and focus on something positive and constructive.
With the confidence and skills I'd learned, I started writing my own audio dramas as soon as the course was finished. Five weeks later, I won 'Owdyado Theatre's Twisted Tales in Lockdown competition for short audio dramas with my play Mouse. And I'm definitely not going to stop there.
Before Podium, I was afraid to engage with audio drama projects – I felt like I'd be walking into a party not knowing anyone and wearing the wrong clothes. Now, I feel like I've been let loose on an entirely new type of storytelling!
As a writer in the current climate, it's such a relief to have another tool on my belt, especially one that can be made even in isolation. But Podium also gave me creative motivation when there wasn't much to be had, and a group of young people like me, from across the country and even the other side of the world, all learning together in a friendly, nurturing environment, at a time of such uncertainty and loneliness.