I was excited and rather nervous when I found the advert for the Podium.me writing workshop in Derby on BBC Writers Room. 
I had been keeping my eye out for local opportunities in the East Midlands area. I was eager to seek out writing workshops and circles outside my university course so I could develop my writing and reach out to other writers and creatives. 
When I saw the podcast writing workshop, I was surprised because I had struggled to find creative projects for writers in the Derby area. A great deal of workshops were further south, predominantly in London. 
The first day of the workshop was nerve-wracking. I didn't know what to expect and everyone seemed older than I was and more accomplished. When we entered the room, it felt like a university lecture or writer's workshop. I was apprehensive about what was going to come next. 
My fears were quickly dispelled after an introduction from Cordelia and Camilla where we went around the table and got to know each other. We talked about the advantages and disadvantages of audio drama and podcasts as a medium. This also gave us an excuse to geek out about our favourite podcasts! I came away with a lot of recommendations and inspiration for my own stories.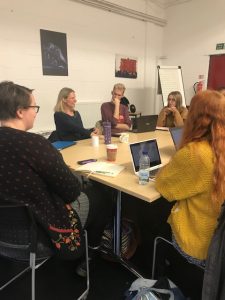 Over the course of two days, we were involved in several activities. These were perhaps the scariest elements of the workshop for me—although they needn't have been. After a few hours of moving around the room to speak to people and reading them my work, I felt completely at home and very confident. This was a huge turning point for me as I often struggle with meeting new people and being confident in my ability as a writer. 
Some of my favourite writing activities included a story written purely in sound. This was interesting from the perspective of a short story writer. The plot was relatively simple—a man breaks in and steals a baby. Considering how this would sound was another beast altogether. We learned that fight and actions sequences are specifically hard to tackle in audio. Together, we came up with possible alternatives and solutions such as a narrator who can guide the fight scene along. 
Another activity I really enjoyed was breaking down popular movies into the formula of "choice + action = consequence." This idea of consequences spiralling out of control and snowballing is great not only for audio but also for scripts and stories in general.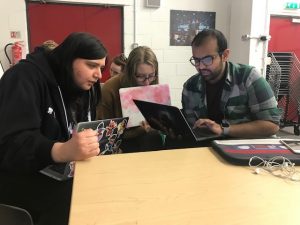 It was amazing to network with other young creators from different parts of the UK. I was stunned to see how many people had travelled from various parts of the country—from Wigan to Birmingham to Edinburgh. It highlighted the demand for courses like these.
The Podium.me workshop not only supplied practical skills for writing audio dramas but also connected people from different mediums—writers, poets, actors and performers—in a way that was accessible and fun. I definitely want to keep in touch with the people who I met at the workshop and possibly work with them again in the future. 
I would recommend the Podium.me workshops to anyone who has an interest in writing for audio and how it's produced. It's also a great chance to network and get feedback while maintaining a relaxed, low-pressure environment.