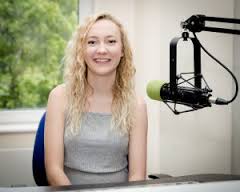 Mia Lainchbury, interning at Podium.me
I found Podium.me at a networking event called 30Under30, I was here to gain contacts in the media world as I was about to finish university. Here, one of my peers came across Camilla and took a card, knowing that I would be highly interested my friend gave me Camilla's details.
I loved the concept of Podium.me, as young people really need more of a voice in the media and this platform is perfect to do so.
Since then I have created four different jingles for Podium.me and thoroughly enjoyed producing them. I was given complete freedom so I let my creativity flow. Andrew Mercer (fellow student) and I went around Bournemouth University with a Tascam recording voices of students reading aloud a script that I had written; this later went into the imaging. I then edited each 10-12 second jingle on Adobe Audition. As the demographic for the podcasts are typically under 25 I tried to make them as young and interesting as possible, with energy incorporating as many different voices as possible. I have a free account with a copyright free sound effects site so used all sounds and beds from this website. The whole process took less than a day but was spread out over quite a large period of time as I was still finishing university.
I look forward to doing more work with Podium.me in the future!