Four days, 96 hours, that's the amount of time I have been in London. After a draining 10 hour flight from Edmonton, Alberta, Canada, a place I have realised 99 percent of people here have no idea about… I have arrived in the city of my dreams, to work for Podium, and pursue my dreams.
My first Sunday afternoon was spent walking through Brick Lane, salivating over the best looking curry, pasta, and tacos, seeing the cutest vintage shops, and of course drooling over all the records. As I'm looking at the most beautiful gold East Indian inspired handmade jewellery I have ever seen in my life, I hear David Bowie's "Starman" blasting from the vinyl shop next door, I turn to my friend, and say "I love this song, what an album, what a legend.."
Less than 24 hours later, the world was hit with the news that David Bowie had died. I didn't think it was real at first, two days before that he just released "Blackstar"? My Dad introduced me to Bowie at a young age, and "The Rise and Fall of Ziggy Stardust" was one of our favourite records. We would sit in my room, put on the vinyl, and my dad would describe what he thought a song was about, and then I would tell him what I got from the song. There aren't many records that you can listen to over and over again, and feel a different emotion every time you listen to it.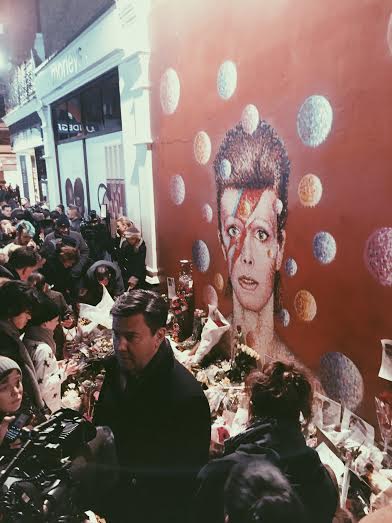 Brixton, the place where Bowie grew up was the first thing on my mind, I kept seeing these pictures, and videos of people paying tribute to him.. "I'm in London, I could be there." Within the next hour I hopped on the tube, and brought my Canadian, and Aussie flatmates with me to pay our respects.
We hopped off the tube, and less than 10 steps away hundreds of people were lying flowers, candles, and notes down in front of this mural. People filled the streets, I could hear stories of people describing the first time they had heard Bowie, or what their favourite song or album was. One lady stood out to me, I heard her describing her feelings towards the media, and how she thought the media was ruining the mourning process for fans. Of course my instincts were to talk to her, and pick her brain about what she was feeling. Knowing I was a member of the media she was a little hesitant to tell me her feelings, but after about 5 minutes she warmed up to me.
"Without music, life would be intolerable, and it would be pretty damn dull."  A simple thought that must go through every music lover's mind.  "My granddad is in his sixties, and I'm 22, and we love him equally." as she describes the legacy he has left behind.
"I was a bit of a punk, I was bisexual, and a bit working class, and David Bowie helped me to be myself, because he himself was always changing and transforming, and I hated Madonna and people like that because all of their transformations were all surface, but all his transformations were real, he was always thinking of new innovative ways to make music."
The passion from her voice was apparent, and you can tell that Bowie wasn't just another musician, but a role model, and somebody that helped her be the person she is today and be proud of herself.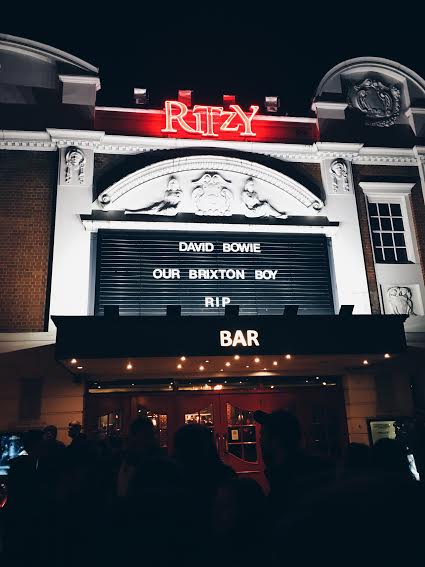 "He didn't just make it okay to be different, he made it cool."
No less than 5 minutes after my interview, people began to crowd around a man with a guitar, soon after you could hear "Changes" being belted through the streets. I have never experienced something like that in my life, the passion, and glow from people's faces showed the huge impact Bowie had on so many people's lives. We stood in the cold, passed around beers, and ciders, and sang our hearts out to songs we love, with people I had never met before. I had to stop, and take a minute to remember that this was a sad time, we have lost one of the most iconic artists of all time, but then I stopped and looked around, and thought I could be sad, or I could look around me, and focus on the amazing impact he has left, and created a unity that only music can create.
"He taught you to explore, not only artistically, but in life."
Bowie was more than just a musician, he was an innovator, and his work will never be forgotten.